Full Day Jeep Tour with Overnight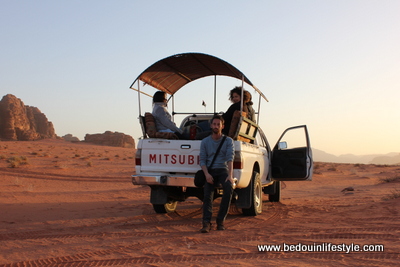 From Wadi Rum you and your guide will first go by jeep to visit the Lawrence Spring. Then you will go to see the Map and afterwards the Sand Dunes, which is a large area of sand dunes piled up against the mountains. It's fun to climb to the top and then race down. You'll have about half an hour in this area for climbing and exploring the dunes, and then you will go to see the Ancient Inscriptions. After viewing the inscriptions left by ancient trade caravans, you will travel to see the Lawrence House followed by Burrah Canyon which is a long, deep canyon between dramatic mountains. It is very beautiful in early morning or late evening, when the sun turns the rock deep orange. Here you will have a bedouin lunch with bedouin tea. Then your guide will take you to see Burdah Canyon. From there, you will continue to the Um Frouth Rock Bridge and afterwards to the Small Arch. The next site you'll visit is Khazali Canyon, where you can walk inside to see the inscriptions. We finish at the camp, where you can enjoy the spectacular sunset. After sunset, you will enjoy a delicious bedouin meal, as well as bedouin songs and music.

On the next day, after breakfast, we'll drive you back to Rum village.

Another option is to ride a camel back for 25 JD per camel.
Price:
1 Person 100 JD
2- 4 adults 70 JD per adult
5-8 adults 65 JD per adult
More than 9 adults 60 JD per adult
Children under 12 years 50%
Children under 2 years free
If you would like to book this as a private tour, 20 JD extra per person
The price includes:
-Full day jeep tour with a driver who speaks English
- Overnight stay in the Bedouin Lifestyle Camp with Bedouin dinner,breakfast, Bedouin tea and water
-Bedouin Lunch.
- Sandboarding
- Drive back from the camp to Wadi Rum village
If you are interested in a tent with private bathroom and shower this costs you 25 JD extra Per Person
Camel Ride Options:
* Sunset Camel Ride: You can enjoy Doing Camel riding during sunset. The price is 40 JD per Camel. The duration is 1 hour.
* Camel ride by the night: You can enjuy doin the Camel ride under the stars by night. It costs 50 JD per camel. The duration is 1 hour.