Um Addami 2 Days Tour with Overnight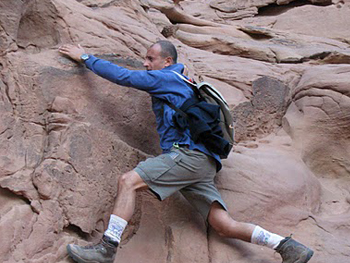 Day 1
From Wadi Rum you and your guide will visit the Nabataean Temple, which is located close to Rum village and features ancient Thamudic and Kufic rock art. The temple was erected around the first century BC. Next we'll drive you to Lawrence Spring where you can climb and take pictures of the incredible view. After this you will go to see the Map and then the Sand Dunes, which are a large area of sand dunes piled up against the mountains. It's fun to climb to the top and then run down. Then we'll take you to see the Ancient Inscriptions and afterwards you'll go by the Lawrence House. Next we will drive you to the Burrah Canyon where we will drop you off with a map and you'll hike for about two hours in this beautiful setting. At the end of the hike you will have lunch, Bedouin tea and then continue to the Burdah Mountain where you'll see the big bridge from the ground. After that we'll take you to the Um Frouth Rock Bridge. You will have an opportunity to climb this bridge. Next is the Small Arch Bridge which can also climb easily. After this you'll go to Khazali Canyon where you can walk inside to see the inscriptions. Then we'll take you to the camp where you can put your things in your tent, have a shower, sip Bedouin tea before viewing the setting sun at a gorgeous site called Al Ghuroub. If you arrive at the camp early you may walk to this site or take a leisurely hike in the area.
Day 2
Jabal Um Addami is the highest mountain in Jordan and is located right on the border with Saudi Arabia. If you are on top of the mountain you can see Saudi Arabia and even the Red Sea on a clear day. Jebel Um Adaami is 1832m above sea level; by comparison Wadi Rum village is 1000m above sea level.
After breakfast we will drive you through the desert some 40kms to the south to
Jebel Um Addami.
This is a magnificent drive through the far valleys of Wadi Rum and crossing the beautiful and lonely
Wadi Saabit
. Upon arrival you will have a guided hike to the top which usually takes about 2 1/2 hours. You'll hike up Jabal Um Addami and then after resting at the top, you'll descend to a nice secluded area. While you rest and explore the area, your guide will start cooking your lunch. After the lunch you can hike for 2 hours and then we drive you by jeep to the Bedouin Lifestyle Camp where you can watch the beautiful sunset and spend the night while enjoying music, songs, a delicious bedouin dinner and bedouin tea.
On the next day, after breakfast, we will drive you back to Rum village .
The tour includes:
-Jeep driver who speaks English and is also a hiking guide
-Dinner, breakfast, water, tea, lunch
-2 nights in Bedouin life style camp
-Drive back to Wadi Rum village
Price :
1 Person 220 JD per adult
2-4 Persons 150 JD per adult
5-8 Persons 130 JD per adult
More than 8 persons 120 JD per adult
Children under 12 years 50%
Children under 2 years free
(for private Bathroom 25JD extra per person)
If you would like to book this as a private tour, 20 JD extra per person
Camel Ride Options:
* Sunset Camel Ride: You can enjoy Doing Camel riding during sunset. The price is 40 JD per Camel. The duration is 1 hour.
* Camel ride by the night: You can enjuy doin the Camel ride under the stars by night. It costs 50 JD per camel. The duration is 1 hour.